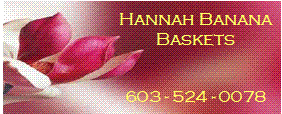 Hannah Banana Baskets is a gourmet gift basket company located in the Lakes Region of New Hampshire.
Established in 2002 we are growing by leaps and bounds.
Our main goal is to provide both the personal consumer and corporate client with not only the perfect gift but outstanding customer care!
A gift service that is second to none!
The team at Hannah Banana Baskets takes great pride in our selection of fine gourmet snacks, and unique giftsthat are displayed in all of our
beautiful Gift Basket Presentations
So whether you are, rewarding, thanking, motivating, impressing, recognizing, breaking up, making up, welcoming, recovering or inspiring -
what could be better than the instant recognition found wrapped up in
a beautiful Hannah Banana Gift Basket!!
Thank you for choosing Hannah Banana Baskets to help you
with all of your gift giving needs.
We know you will be delighted and impressed with not only our customer care
but with our beautiful, creative designs.
All of our designs are one of a kind and created for you when ordered.
If you don't see a product or price you were looking for
please contact us and we would be glad to create something just for you!

Hannah Banana Baskets has been named in Gift Basket Review magazine's Top 100 List as one of the Top 50 Fast Growth gift basket businesses in the United States! We would like to thank all of our loyal customers for helping us achieve such success!
Now sit back relax
and
let us make you look good!
Proud member of the:

Laconia-Weirs Beach Chamber of Commerce
Home | Search | Links | Policies | About Us | Contact Us | Help